In my dreams of being the fantasy football world version of Ron Burgundy, I see myself sitting my 16-year-old son down in my shrine room dedicated to all things fantasy football, and explaining to him the same thing that years and years of fantasy football have taught me:
"You can't win your league in the first rounds, but you CAN lose them"
He'll probably laugh at me, tell me he's heard it all before, and he'll learn his lesson when he drafts that year's version of Montee Ball. Here I am trying to save you from the frustration, humiliation, and shame in losing your league in the first rounds. My On the Clock series will cover the first few rounds of the draft, explaining the pros and cons of each player that's consistently drafted in that round, followed by scores for both safety and upside.
1.01: Jamaal Charles is my favorite player this year, as he has a combination of safety and upside that nobody else in the draft sees. Despite adding Jeremy Maclin and Travis Kelce continuing to emerge, Charles will be a key point to the Chiefs offense, they will not be able to survive without feeding him the ball. Yes, Charles saw his touches go down last year, but after two years of 320+ touches, that was probably for the best, as he was already dealing with injuries from it. He's still only played less than 15 games in a season once, and I see last year's touch decline as a reason to think he'll be a little more durable this year. Even if he isn't, Knile Davis is easily the most valuable handcuff in the NFL, and will put up RB1 numbers if something happens to Charles. After last season being slightly frustrating, it's easy for fantasy owners to forget that the year before he averaged almost 21 fantasy points a game. If you have a top pick and Charles is on the board, you grab him and don't look back.
Safety: 4.5/5
Upside: 5/5
1.02: Adrian Peterson is with Charles amongst my top 2 this year. I actually see them a half tier above all other running backs. Peterson is fresh, he's elite, and he's in the best offense he's been in since he put up 18 points per game. In fact, if you remove the anomaly that was last season, he's never finished with less than 15 points per game. Add in the consensus that he'll be more involved in the passing game this year and defenses won't be able to stack the box as much as they used to, and you have an elite running back that just took a step up. Yes, he's 30 now and hasn't played in a year, but he's also Adrian Peterson, and I think that says enough. The only thing holding him back is the lack of a clear handcuff, as Jerick McKinnon and Matt Asiata split carries last year when Peterson was gone.
Safety: 4/5
Upside: 5/5
1.03: Le'Veon Bell would be the easy #1 if it weren't for his two game suspension. After a great rookie year of 13 fantasy points per game, he went off for 18 a game his sophomore year, and I don't see him slowing down. Yes, he got hurt last year in the playoffs, but I see the injury concerns as overblown by speculative owners. Great managers can turn a 1-1 or even 0-2 start into a playoff team easily by working the waiver wire and trades. If you see yourself as a great manager, jump on Bell as soon as you get the chance.
Safety: 4/5
Upside: 5/5
1.04: Eddie Lacy has a high floor, but not quite the upside of the backs mentioned before him. The Packers offense doesn't revolve around him, which is apparent by the fact that he got less than 15 touches six times last season. His schedule is also pretty tough to run against, but that's not a huge concern since the Packers face some great passing defense this coming year too, so I don't see his usage declining. My biggest concern is taking Lacy as a top 5 back when he's never finished as a top 5 back. In fact, notable busts Doug Martin and Trent Richardson had very similar rookie years to him in terms of points, Lacy was just able to keep it up one more year. I don't see Lacy busting, largely because of the offense around him, but he hasn't yet proven himself as a top 5 back. Will he finish top 10? Almost certainly. Will he finish top 3? I doubt it. Add James Starks as a clear handcuff, and Lacy is a safe and comfortable pick.
Safety: 5/5
Upside: 4/5
1.05: Marshawn Lynch is a ticking time bomb, will this be the year he explodes? I'm afraid to find out. When Lynch falls, I don't see him slowly regressing, I see him falling off a cliff. That being said, he's been consistent the past 4 years, with a low of 14 fantasy points per game as a Seahawk. However, he's also had 4 straight 300+ carry years. As long as Marshawn is healthy, he will be getting the ball and producing. While Jimmy Graham does provide a new red zone target for the Seahawks, I don't see him leeching Marshawn too much, since Lynch has only had more than one touchdown through the air twice in his career. As long as Marshawn is healthy, he's safe, but one of these years he's going to have to fall off.
Safety: 4/5
Upside: 4/5
1.06: Antonio Brown is my first receiver off the board. While I'm not positive that he can replicate his #1 performance from last year, realize that this man hasn't scored less than 5 points in the past 2 years, and didn't have less than 7 last year. No player quite has the safety of Antonio Brown. I don't see Le'Veon Bell's suspension as an opportunity for defenses to shut down Brown either, as there are too many weapons on the Steelers offense to punish any team that tries that. Brown gets a perfect score from me, the only thing that takes him back is the value of wide receivers compared to running backs.
Safety: 5/5
Upside: 5/5
1.07: CJ Anderson is the dream pick of any risk-hungry fantasy owner. I see Anderson ending as a steal of a top 3 running back, or a bust outside of the top 12. A very fantasy-friendly offense, and a spectacular performance last season is highly encouraging. Risk-averse owners will be pointing to the headache that was Montee Ball last year, but Anderson is a much different beast and an all-around better player that has proven himself more than Ball ever did. That being said, it's tough for me to ever take a player in the first round with less than a season of production under their belt. If Anderson is on the board when you draft, really think about how much you want to risk. You could be a genius, or you could be the laughing stock of the league.
Safety: 3/5
Upside: 5/5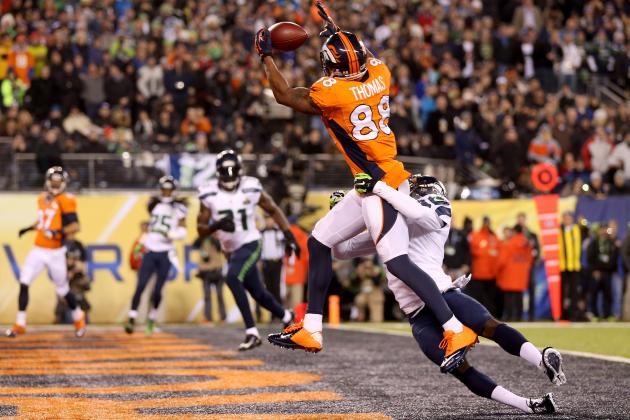 1.08: Demaryius Thomas is almost as safe as Antonio Brown, and is a star in one of the most dynamic offenses in the league. He's posted 14 points per game both of the past two seasons, and never dropped below 11 in weeks 15 through 17, when Peyton Manning looked terrible. Julius Thomas is gone and which will hopefully get Demaryius more red-zone targets, but he won't need those extra targets to be an elite receiver anyways.
Safety: 4.5/5
Upside: 4.5/5
1.09: Matt Forte won't have quite the upside he had in years past, but he'll still be a producer. The coaching changes will be reducing Forte's contributions to the passing game, which is what made him so elite. However, I still see him being reliable because of his contribution to the offense. Even in his low receiving years, Forte was producing between 10 and 14 points per game. If CJ Anderson scares you a bit too much, Forte is a bit more comfortable and likely a lock to finish in the top 10.
Safety: 4/5
Upside: 3.5/5
1.10: Dez Bryant looks ready to have another great year, especially with DeMarco Murray gone and the Dallas run game likely slowing down. In the past three years, Dez has seen between 88 and 92 targets every season, and two of those seasons he posted an identical 15 yards per catch, so he's quite reliable. However, he caught 16 touchdowns last season and no receiver has ever repeated that, so regression is a possibility if his yardage doesn't increase. I don't think Dez can break out much more than he already has, but I do like his reliability.
Safety: 4.5/5
Upside: 4/5
1.11: Julio Jones, on the opposite side of Dez, looks ready for a career year. Being the top receiver in the Kyle Shanahan offense has been a blessing in the past, and it's not unreasonable to predict the same for Julio. An underwhelming run offense and a solid quarterback in Matt Ryan give him high potential as well, but he's only once played all 16 games in a season. If he stays healthy, Jones looks primed to score 200 total points for the first time in his career, but that's an uncomfortable "if".
Safety: 3.5/5
Upside: 5/5
1.12: Odell Beckham Jr. ends the first round, and I see him as the wide receiver version of CJ Anderson, oozing with upside potential but lacking in true safety. While Beckham's skill is undeniable, and I do think he'll perform as an elite receiver as long as he's healthy, he's already had his fair share of health concerns in his short career. He started last season out with a hamstring injury, hurt his back mid-season last year (but avoided missing time), and also hurt his hamstring again during OTAs. His talent is impossible to pass on at the end of the first round, but he's more of a question mark than the other top receivers.
Safety: 3.5/5
Upside: 5/5
ROUND 2 coming soon…
fantasyreaList Writer: Blake LaBathe