All of us are in a least one…..the boring league that we can care less about. Half the league doesn't respond to trades, barely set their line ups, no shit talking and no shits given. This is the worst, by week 3 you asked why you even joined the league, by week 5 you stop setting your own line up, and by week 13 you realize you made the playoffs without doing a thing.
Though some of these leagues are unavoidable there are a few basic things that will keep your owners interested and engaged.
Live Draft
This might seems so obvious, but majority of leagues are still doing it online for whatever reason. What a live draft does is set the pace for the rest of the season. Nothing feels better than getting together for a day dedicated to just Fantasy Football. Get away from work, the wife/girlfriend, the kids, and the rest of your problems and focus on the fantasy that is football. Don't just draft either, make this an EVENT, go to Hooters. Make it like a Superbowl party, plan for food, adult entertainment and maybe some light drugs/alcohol.  By doing a live draft you can add something to how you set your draft order, not just the random draft assignment. Maybe have a poker game, horse race tracks, drinking contest, basically anything that is random and out of your control .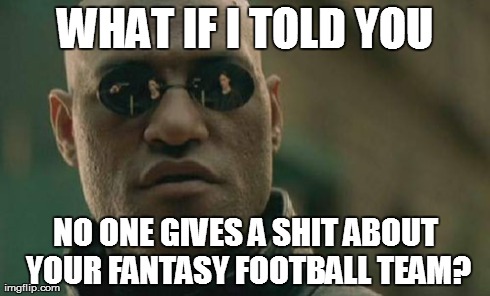 Platform
Give your league a platform to express themselves. Don't rely on the FF site itself to make comments and announcements, think bigger. Whether it be a facebook page, website, or google plus page, a platform gives your league a place to communicate freely. A place to post memes, talk shit, share videos, announce players on the trading block. Nothing is more fun than creating a meme of your opponent and sharing it with the rest of the league. Fantasy football sites are so limited, so you want to set something up separately to have more open lines of communication. Also have a group chat set up for game day.
Motivation
This is key for every league, whether be a motivation to win or keep from being last place. For most FF leagues, money is the sole motivation, but when you talk to the more passionate leagues, there is usually a trophy of some sort involved. The trophy gives http://wp.me/p58M9x-dv and something to hang over the league til the next season. Other motivations can be what the loser does, like an embarrassing music video or paying for everyone's lap dances at the trophy presentation.
fantasyreaList Writer: Eli Duran