The Golden State Warriors have been the talk of the Sports world for the past week. The internet nearly shut down when Kevin Durant announced he would form the 2016's version of the Dream Team by joining a 73 win team. It's crazy that one of the top 3 players in the world would join another top 3 player in the world and his all star teammates. Everyone is wondering: Will they put up 200 points? Will they win 80 games? How many rings can they win? Is this even fair?
The Warriors are basically a Fantasy team, so why not compare them to a Fantasy Football Team.
Stephen Curry is Aaron Rodgers
Rodgers is probably one of the best and most accurate passers ever. Curry is the deadliest three point shooter we have ever seen. How many times have we seen Rodgers throw from one leg or just put up a hail mary and connect. The offense runs through both of these guys and they can always beat you deep. By most people they are considered the best in their sport who put up insane numbers.
Stat comparison 
Stephen Curry career 3 point percentage: 44.4%
Aaron Rodgers career completion percentage: 65.1%
KlayThompson is DeAndre Hopkins
Silent killers. Not flashy or demanding. All they do is go out there and just do work. You know what Klay will do every game… shoot, shoot, and shoot some more. Hopkins is the same way, here's there to catch and catch anything that comes his way. When the game is over and you look at the stat sheet, Klay quietly put up 35 points and DeAndre has a quiet 150 yds and a TD . There are times where you think that no one else can possibly be better than this and their stats back it up.  
Stat comparison 
Klay Thompson 2015 3 point attempts per game: 8.1
DeAndre Hopkins 2015 targets per game: 12
Kevin Durant is Antonio Brown
Offensive machines. All they know how to do is put up points and yards. You know when KD is on the floor, he's putting up 30 points and when AB is on the field he's going for 2 touchdowns and 150 yards. Nobody questions that they are both top 3 overall in the league and they have the offense to prove it. They are in the absolute prime of their careers who are just unstoppable.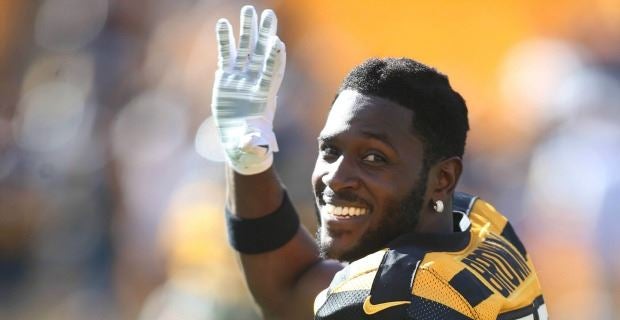 Stat comparison 
Kevin Durant total points in 2015: 2,029
Antonio Brown total yards in 2015: 1,834
Draymond Green is Todd Gurley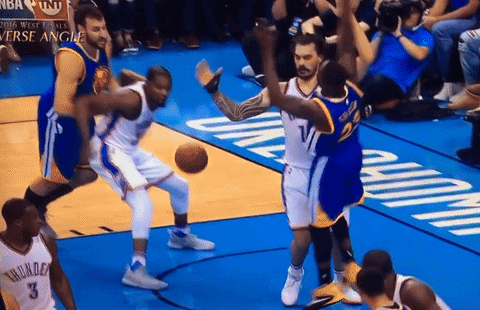 Draymond should really be Marshawn Lynch, but with Beastmode retired we settle with the second coming in Gurley. Both are still rough around the edges but there is no denying their pure power and will. Gurley will run through a wall and can be the workhorse the entire game. Green also does the dirty work and gets as physical as the best of them. When Green finishes an and 1, it looks like Gurley breaking a tackle, they are just too strong. Young and hungry, they will be a force to be reckoned with for years to come.
Stat comparison 
Draymond Green total triple doubles in 2015: 13
Todd Gurly total 100+ yard games: 5 (in only 13 games)
Andre Iguodala is Darrelle Revis
It was tough to find a comparison to Andre, but his biggest strength is his defense and who better than Revis Island. Both are a little past their primes, but can still shut down the other teams best player. Andre is often the guy assigned to the best offensive player, as is Revis to the best WR. They may not be at their physical peak, but they make up for it with their IQ. Their veteran presence makes the team defenses that much better. 
Stat comparison 
Andre Iguodala 2x All-Defensive Teams
Darrelle Revis 5x First Team All-Pro
Shaun Livingston is Alex Smith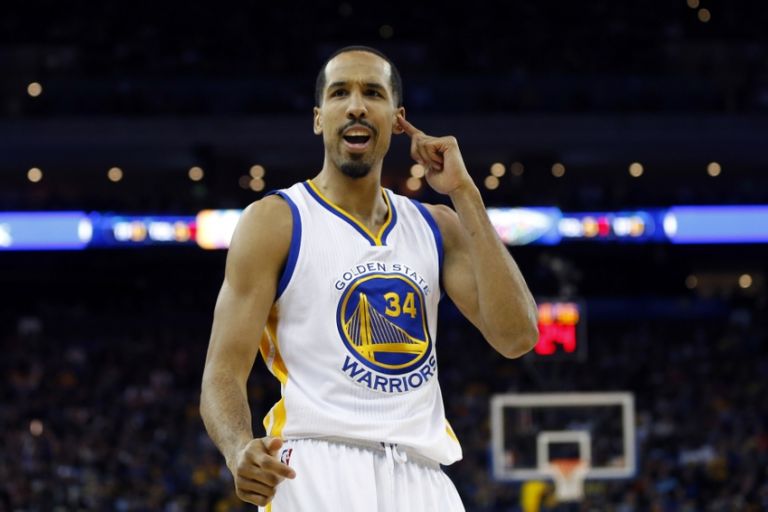 Livingston is a role player, but very smart and manages the game well. Does that not describe Alex Smith perfectly? Both have the ability to manage a game and play with little mistakes. At the same time you can't expect either to be this amazing playmaker who can put the team off their back. If Alex Smith were in the NBA he would be a very good back up point guard. 
Stat comparison 
Shaun Livingston turnovers per game: 1.0
Alex Smith Interception rate: 1.5%
Whether you hate or love the Warriors, they would make for a pretty damn good fantasy football team. I would hate on a team also if they had Aaron Rodgers, DeAndre Hopkins, Antonio Brown, Todd Gurley, Darrelle Revis, and Alex Smith for a back up. I was searching hard for match with David West, but I couldn't think of one single ring chaser like him, maybe Vinetari? Would your fantasy team beat these Warriors?
fantasyreaList Writer: Eli Duran