Antonio Brown = Jolteon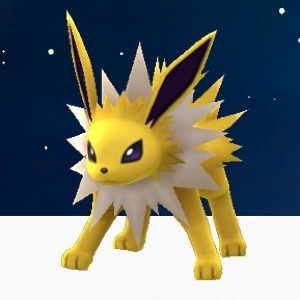 An "electric" receiver you could say. He's the cream of the crop, top tier receiver and this upcoming season could be the best of his already accomplished career. With a healthy Big Ben he could have the best statistical season for a wide out in history. Over the last 3 seasons Brown posted at least 110 catches, 1,500 yards and 8 touchdowns the true model of consistency. Much like Jolteon he's mostly a yellow blur to his opponents as he dashes down the field and leads his team to victory.
Doug Martin = Primeape
Sadly there is no hamster Pokémon in the original 150 but Primeape is the perfect example of Doug Martin. Small and stout but very physical and agile. Doug Martin at only 5'9 225 pounds can drive through a defender as well as dance around the tackles and pick up great yardage. With 1,400 yards and 6 touchdowns last year he posted a very strong season. Like Primeape he doesn't shy away from bigger attackers and will attack with plenty of force.
Rob Gronkowski = Blastoise
Both are gigantic, Gronk at 6'6 and Blastoise at 5'3 (very big for a pokemon). Both are leaders for their teams and trainers. They provide that big reliable punch that every team and trainer is looking for. Gronk has at least 10 touchdowns in every healthy season he's had, leaps and bounds the best tight end in fantasy football. Blastoise has been leading trainers past the final four since the original game was released. No doubt both key players in both their respected worlds.
Odell Beckham Jr. = Ninetails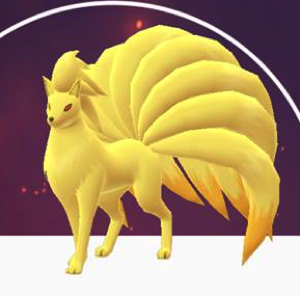 Arguably the flashiest player in football and has a style all his own, with his blonde hair and crazy cleats he's just exciting to watch. Ninetails also has a style all its own, with its Nine blonde tails and clean demeanor they both are pompous characters. But they can back up their style with talent. Ninetails with its punishing fire moves and Odell with his ankle breaking route running and speed they're both some of the best at what they do. With just two seasons under his belt this young stud has already solidified himself as a top five receiver in football.
Chris Ivory = Golem
Both are boulders, one literal and one figuratively. The way Chris Ivory can pound the ball through very small windows between linemen or making his own hole like a battering ram makes him one of the best goal line backs in the game. Very old school brute force way to get the job done and get into the end zone. Golem is one of the strongest Pokémon, very short and round but rock solid he uses his big body to slam his attackers and win the battle.
fantasyreaList Writer: Nick Mahoney