Jamison Crowder WR Washington Redskins- A sneaky add before the early game on Sunday would have proven genius if you got this guy. 9 catches for 107 and a touchdown is a very nice game out of the flex position. Without their lead, back in Matt Jones the Redskins passed the ball a ton. 56 times to be exact. But Crowder took advantage, more of a return man for this Redskins team and now he's evolving as a receiver. He is lightning quick and Cousins loves to throw him the ball. Desean Jackson left Sunday's game early after taking a massive hit from a Cincinnati defender, if he enters the concussion protocol Crowder's production rises even more.
Quincy Enunwa WR New York Jets- When Eric Decker went down someone had to fill in as the #2 receiver behind Brandon Marshall and that is Enunwa. Although very quiet in that role early in the season he has picked it up lately posting at least 70 yards receiving and a touchdown each of the last two weeks. He has been better then Marshall of late but as the #2 with Decker out the entire season Enunwa should see consistent looks week in and week out. He is a deep threat for sure and hopefully Fitzpatrick can step up his play for the sake of Jets receivers. Enunwa is a very solid flex in deeper leagues.

Tim Hightower RB New Orleans Saints- Mark Ingram owners had trouble sleeping Sunday night as they saw him start the game with a fumble and never return to the field. Ingram an earlier round investment this season has not been anywhere close to what he has been or is expected to be. On Sunday, his replacement was Tim Hightower who rushed 26 times for 102 yards, this was a good performance by the backup and has made his case to be more involved in the offense. Expectations should be capped until we see more play but the Saints won't do away with Ingram just yet, if they both find success next week it could turn out to be a real committee. An interesting note, the Saints have had 3 100-yard rushing games the past two seasons: 1 by Mark Ingram and 2 by Tim Hightower.
Charcandrick West RB Kansas City Chiefs- Spencer Ware was set to have a monster game on Sunday, no Jamal Charles and the sorry Colts run defense on the other side, until he got knocked out with a concussion. With Ware's week 9 in jeopardy and Charles getting his knee analyzed by a doctor the heavy Chiefs running workload could be West's for the taking. West has been in this role before providing solid running back play last season when Charles originally was injured. The attraction to West is he will probably be on the field for every down he can handle in week 9, with no other options around him he will get a ton of work, and that makes owners very happy. Go grab him if you own Ware/Charles or if in need of RB help.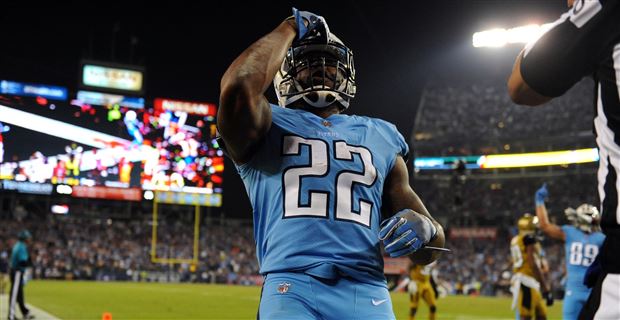 Derrick Henry RB Tennessee Titans- Finally Henry breaks out. This week against Jacksonville Derek Henry showed us all what he had 20 touches, 97 total yards and a touchdown. Early in the season it was thought Demarco Murray and Henry would split the load but because of Murray's surprisingly good play Henry took a backseat. This week they featured Henry more, it may have been cause of the score in which they were up 21-0 at one point but none the less he showed to the Titans that he can run with the big boys. Murray left the game this week with an injury and his status should be monitored. Henry should get more involved each week.
fantasyreaList Writer: Nick Mahoney